Formentera is a sought-after vacation spot for those seeking peace and quiet, as well as pristine beaches, unspoiled landscapes, and charming towns. But there's so much more to discover on the island.
There is actually no need to wait for the summer holidays to enjoy some of the island's wonders, such as the lighthouses at Punta de Sa Pedrera, Es Caló, and Cap de Barbaria, or the excitement of San Francesc's season-opening festivities.
May is an excellent opportunity not only to get to know the island, but also to enjoy it in a different way, with walks along the seashore and the first baths of the summer season.
This month, in addition to the normal good temperatures, lower travel and lodging costs, and less tourists, Formentera provides an attractive array of recreational and sports activities, cultural, and gastronomic offerings.
Formentera boasts a network of green roads perfect for biking or walking for those who enjoy sports and healthy living. It is possible to traverse the entire island on a network of 32 linked routes totaling more than 100 kilometres, learning about the island's natural side and its secret spots in an environmentally friendly manner.
On the other hand, the most competitive athletes may want to keep an eye out for some of the events that will take place in May.
One of the most original is the "Formentera to Run", a trail running race that combines holidays and competition, which crosses the island in five stages and is held from May 29 to June 5.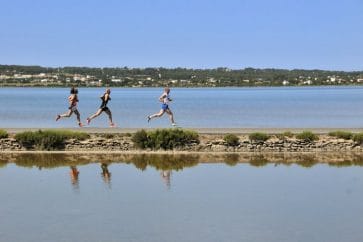 Also, on May 14th, there is the well-known "Half Marathon," a race that traverses the entirety of Formentera from north to south.
On the other hand, those who prefer to compete in its crystal clear waters can participate in the 30 km "Ultraswim Formentera-Ibiza" scheduled for the 21st.
On May 1, the "III Photosub Hunting Open in Freediving", and the "Peñon de Ifach Trophy Regatta" from May 25 to 28.
The Gastronomic Weekends, which take place over the first two weekends of the month and feature dishes that reinterpret traditional local cuisine at reasonable prices, give gourmets a place to gather in Formentera in May.
These weekends feature both traditional menus and innovative proposals created especially for the occasion. Many of the island's finest restaurants take part, and their fixed-price menus are far less expensive than their normal prices.
In light of the success of recent editions, many visitors to Formentera have decided to take advantage of this peaceful time of year to sample the island's food.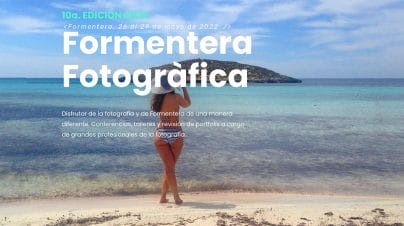 From "Formentera Fotogràfica," which will celebrate its tenth anniversary on the island of Formentera from May 26 to 29, proposing interesting conferences and workshops with renowned photographers, to the Culture Days digital with "Formentera 2.0" on May 5, 6, 7 and 8, new technologies and communication through different professionals in the sector, the cultural proposals that justify a spring getaway to Formentera are varied.
On top of that, there are plenty of lively and colourful craft markets where you can purchase original works of art directly from the artists themselves, such as Florence Mauger's jewellery or leather goods made by skilled craftsmen like José Marcos.
Formentera in May has all of this and more!
Make plans to visit Formentera in May by contacting us. Your main concern will be having a good time, as we will arrange everything from your airport transfer to your villa or hotel room, so all you have to do is relax and take advantage of everything Formentera has to offer.