Today we inaugurate a new section in our magazine dedicated to all those people whose lives depend on you, on the people who year after year choose Formentera as a tourist destination. Some of these people came to Formentera by chance, fell in love with the place and its people and decided to change the course of their lives and make this island their home, with a lot of effort and a great economic investment, those with entrepreneurial veins opened small businesses in the island, the artisans and artists found a place of great inspiration, all of them summer after summer, flooding the streets and markets of Formentera with color and personality.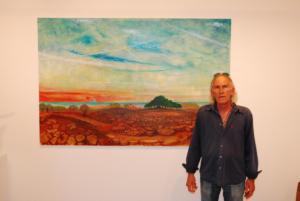 In this first article we want to introduce François Mennes, an artist of Belgian origin living in Formentera for more than 30 years.
We needed a local artist to design the Your Formentera logo in watercolor, we wanted the colors of the sea to be reflected in it, a task that seemed complicated to us. Çois was the artist recommended to us by Flor Maguier (a wonderful yoga teacher in Formentera that we will also talk about in future articles). He knew how to interpret and capture our logo idea perfectly and while he was with us, I took the opportunity to investigate his life a little more.
François arrived in Formentera in 1974 leaving his native Antwerp after a period of emotional difficulty. He came to Formentera by chance looking for work and began his professional career making stone walls, another of his great passions, and through which he met the painter Antoni Taulé who was the one who inspired him and started painting specifically in the oil technique, artistic path that never left him again.
A few years after arriving in Formentera he met what would become his wife and muse, the Formentera-based American artist Georgia Pine (Oregon 1941) whom he unfortunately lost a few years ago.
Both artists of oil and watercolor, with different personalities and styles, but together they created a universe of works of art that transmit in each brush stroke the authentic philosophy of the island, love for nature and for little things, on this island any corner it is full of magic.
His work has been shown in different exhibitions, being a good example of the creative capacity of this painter who has cultivated his own style and who approaches abstraction, the figuration of his still lifes or the landscapes of the island with equal ease.
You can find Çois at the artisan fair of La Mola where he has exhibited his works for years from May to October, every Wednesday and Sunday. In case you want to view his works and desire to contact him, please contact us, we'll forward him your request.