It's freezing outside and you dream about the heat of the sun and mojitos on the beach. It seems sooooo far away until July or August !
Don't worry, we give you 3 good reasons why you should choose to come to Formentera out of the peak season and make this island the ideal destination for your early spring break.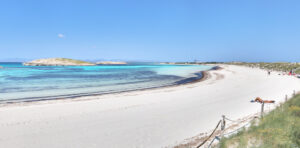 1. The ideal climate.
Formentera is the ideal destination at the beginning of the year thanks to the generous climate. It is a small island and does not hold the clouds, limits the rainy days and ensures sunny and pleasant stay during most part of the year.
In order to fill up with vitamins and reload batteries say goodbye to the stress of city life. There is no place like Formentera in March, April or May.
2. Better service.
As you will have understood, coming to Formentera at the beginning of spring is the ideal and appropriate time to avoid the tourist peak. Beaches and restaurants are less crowded so you will not need to book in advance anywhere, which will allow you to freely choose what you want to do at any time. Fewer crowds mean a far more intimate exploration of the Island.
It will be a quiet moment of freedom to relax and focus on yourself.
3. Low season, low cost.
When you visit Formentera offseason, you'll have the freedom to change your plan or schedule easily and not suffering the consequences of paying more. Flights will be cheaper and your accommodation price too. You can expect to pay between 30-40% less your dream villa in Formentera.
Besides, during the low season locals are more freely compared to the peak season, therefore, you can easily interact with them and learn more aboyt their language, culture, and heritage.
No matter the season, holidays in Formentera are always a good idea. You can enjoy an unforgettable stay every day of the year.
See you soon in Formentera !
YourFormentera.es is your preferred partner for villa rentals in Formentera. Browse our catalogue and make your personalized quote.